Sato Heart Rescue of NH
The Sato Heart Rescue, of Wilton, NH, is a small group of dedicated individuals in the Hillsborough County area who work exclusively with the Second Chance Animal Rescue, in Villalba, Puerto Rico, to find homes for Satos.  "Sato" (pronounced "saw-toe") is Puerto Rican slang for street/stray dogs.
Satos come in all sizes, but they are mostly small to medium size dogs.  Upon arrival, many are initially shy.  However, once they realize that they are no longer in jeopardy, their true personalities surface as they settle-in and begin to relax.
We are a shelterless "foster home" rescue, so all dogs in our care are living with families in the area. This gives us an opportunity to understand their personality within a home environment, allowing us to best match them with the proper family.
Once a dog reaches our rescue, our foster home families and Director of Adoptions begin the search for a perfect match – a family who will give the pet a wonderful home.
While waiting for their forever home, our dogs receive the best of care.  Upon arrival in New Hampshire, all dogs are quarantined for 48 hours, after which time they are seen by a licensed veterinarian for a State of New Hampshire Health Certificate.  The dogs are then placed with a foster family as they await their forever home.
Featured Pet!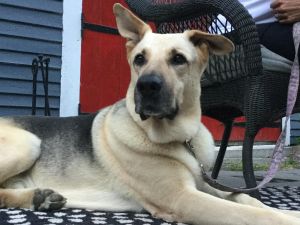 Rescued on 12/22/15, 6 years, 80lbs. Looking for love? Look no further! Shep is a loving, loyal, and laid back gentlemen looking for a family to spend his days lounging with. He loves ALL people he meets, and is happiest when he's surrounded by his loved ones. Shep does like to go for walks, but doesn't need a lot of excercise, all he really needs is someone that will be his best buddy. Shep is a great boy, rescued thrown away on a mountain road, he was a house dog and knows what is expected of him. He is great on leash and is wonderful with children. He can be picky with his dog friends so would do best as an only dog or a dog of similar size and temperament. Shep seems to be housebroken. He is a true Gentleman, in great condition and deserves a second chance with a FOREVER family. He is fully vetted and ready for his new home. He will be available for adoption on mid-May! If you are interested in him, please fill out an application. The adoption fee is $365.00 which must be paid in cash or check.
Adult, Male, Large
You can find out how to apply for him 
here!